Map Unavailable
Date/Time
Date(s) - 22.03.2023 - 23.03.2023
16:00 - 20:00
Eventslocation
CODE_n
Categories Keine Kategorien
Registration
Register for the event below: Registration
Instructions for registration can be found here.
web3week
Web 3.0 – the new Internet or just a hype? For one week, bwcon and its partner Swiss Business Hub Germany will get to the bottom of the new generation of the World Wide Web.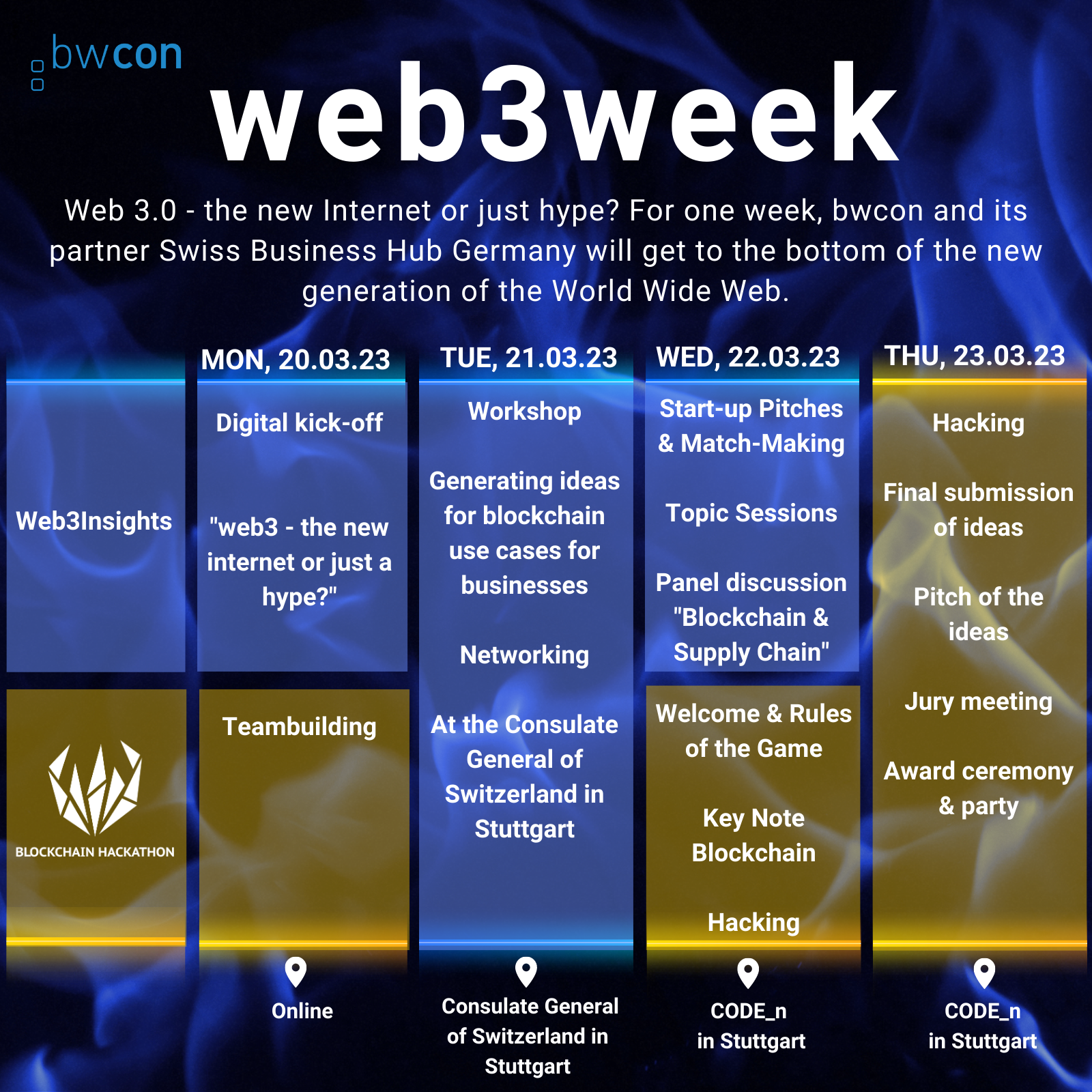 From 20 to 23 March 2023, the web3week will be held for the first time in Stuttgart.
Blockchain Hackathon
Monday, March 20 – Digital Teambuilding
Wednesday, March 22 – Blockchain Hackathon: The successful Blockchain Hackathon enters its fourth round and presents itself in a new hybrid format as part of the web3week. The programmers develop solution approaches for challenges and elaborated use cases, and company representatives as well as interested parties are part of interdisciplinary teams and learn actionable methods and innovative approaches to new challenges.
Thursday, March 23 – Blockchain Hackathon & Awards Ceremony: The best concepts and solutions are selected by a jury made up of experts.
Agenda
The agenda is continuously updated.
Monday, 20.03.2023
4 pm – 6 pm

Online team building

Wednesday, 22.03.2023

8:30 am

Registration

9 am

Welcome & Rules of the Game

10 am

Key Note Blockchain

Dr. Harry Behrens, co-founder and CTO of the mobility blockchain platform bloXmove

10.30 am

Start hacking

6 pm

Update Call with the

participants

Thursday, 23.03.2023

9 am

Update Call with

participants

9.30 am

Hacking

2 pm

Final Submission of ideas

3 pm

Pitch of ideas

4 pm

Jury session

5 pm

Award ceremony

with party
Blockchain Hackathon expert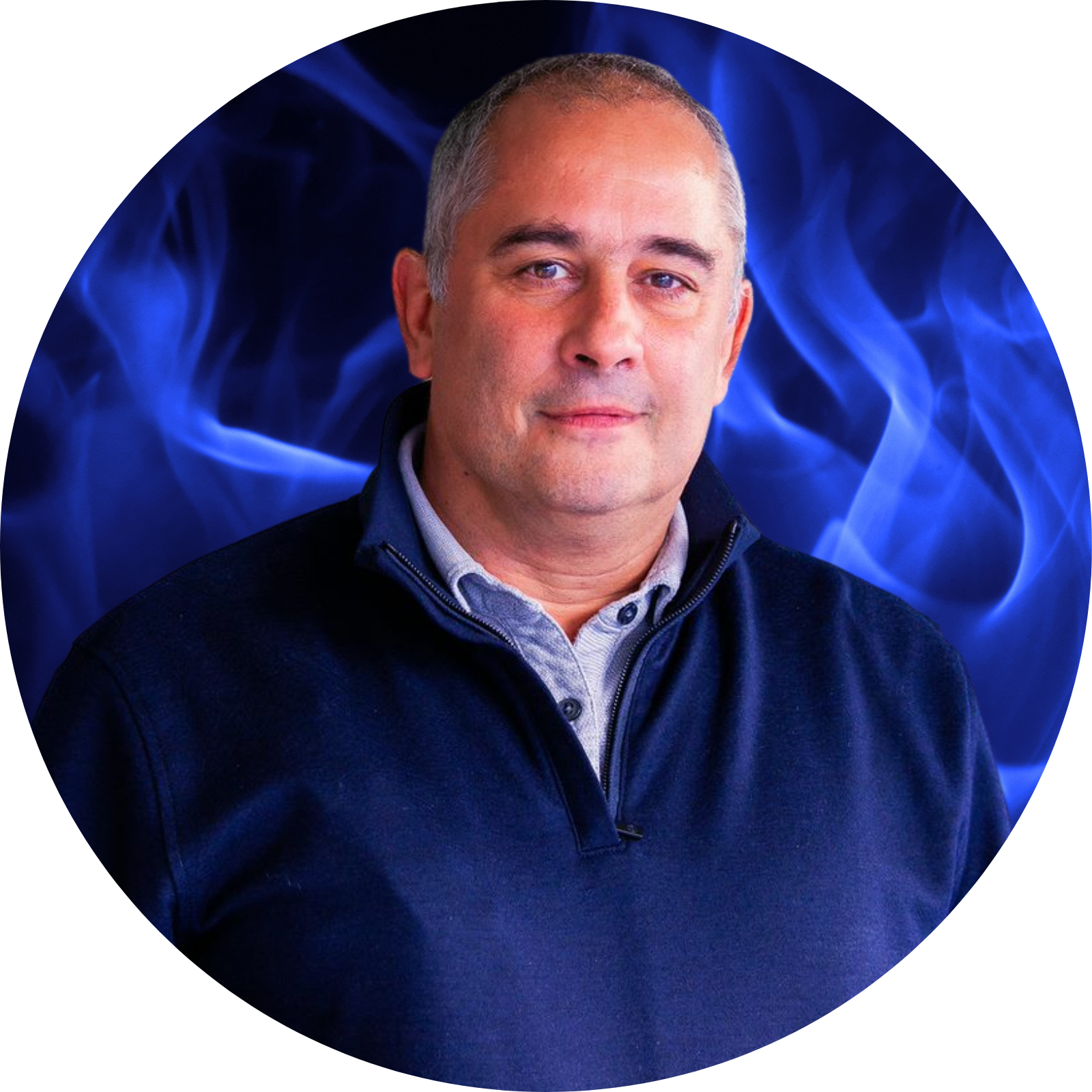 Dr. Harry Behrens, co-founder and CTO of the mobility blockchain platform bloXmove, which enables mobility providers to seamlessly implement their offerings into a global alliance.
Harry Behrens founded and led the Daimler Mobility Blockchain Factory until May 2021. There he combined his experience in mobility, automotive finance and blockchain to develop and build the Daimler Mobility Blockchain Platform. This platform is now evolving under the independent company bloXmove. Harry has been actively involved with blockchain since 2013. In 2016, he co-founded the Daimler Financial Services Blockchain Swarm and initiated the development of the smartVIN® Blockchain platform. Before taking his new position at Daimler Mobility AG, he was Head of IT for Mobility and Digital Finance at Mercedes Benz Auto Finance China. He was also the interim CTO of car2go in China. Harry earned his diploma in computer science from the Technical University of Munich with a thesis on neural networks and his PhD in information engineering from the University of Tokyo on the topic of distributed artificial intelligence. He is fluent in six languages.
Contact
Nora Bartke

Organization & Hackathon participation
Dominik Stelzmüller

Event sponsors & Corporate contacts
Organizers
Partners

Der Swiss Business Hub Germany ist die Aussenstelle von Switzerland Global Enterprise (S-GE), der offiziellen Schweizer Wirtschaftsförderung für Export und Standortpromotion mit rund 200 Mitarbeitenden in allen Schweizer Landesteilen und in 30 Ländern. Gemeinsam mit Partnern im In- und Ausland werden Schweizer KMUs bei ihrem internationalen Geschäft und innovationsstarke ausländische Unternehmen an einer Ansiedlung in der Schweiz begleitet.
DT4REGIONS is a European Parliament Preparatory Action supported with European Funds. The content of this event reflects only the participant's view. The European Commission is not responsible for any information or content that may be produced.
Bookings
Bookings are no longer available for this event.