Datum/Zeit
Date(s) - 26.09.2023
12:30 - 15:00
Veranstaltungsort
Committee of the Regions
Kategorien
Anmeldung
Melden Sie sich untenstehend kostenlos zur Veranstaltung an. 
Advanced Technologies for Resilience and Competitiveness of European more Traditional SMEs
Hauptziel der Veranstaltung ist es, politische Empfehlungen an europäische, nationale und regionale Entscheidungsträger zu übermitteln, die auf den wertvollen Erkenntnissen und Ergebnissen zweier bedeutsamer COSME-Pilotprojekte basieren: "STARS" und "ReStartSMEs". Diese wegweisenden Initiativen wurden im Rahmen des Konjunkturpakets ins Leben gerufen, um die europäische Wirtschaft zu stärken und den grünen sowie digitalen Wandel für kleine und mittlere Unternehmen (KMU) zu fördern.
Insbesondere nach den Herausforderungen durch die Covid-19-Pandemie spielten diese Projekte eine entscheidende Rolle bei der Unterstützung von KMUs bei der Anpassung an das postpandemische wirtschaftliche Umfeld. Durch die Einführung fortschrittlicher Technologien trugen "STARS" und "ReStartSMEs" maßgeblich zur erfolgreichen Neuausrichtung der Unternehmen bei. Unsere Veranstaltung bringt führende Köpfe und Experten aus verschiedenen Bereichen zusammen, um die gewonnenen Erkenntnisse zu diskutieren und die Weichen für eine nachhaltige und innovative Zukunft der europäischen Wirtschaft zu stellen.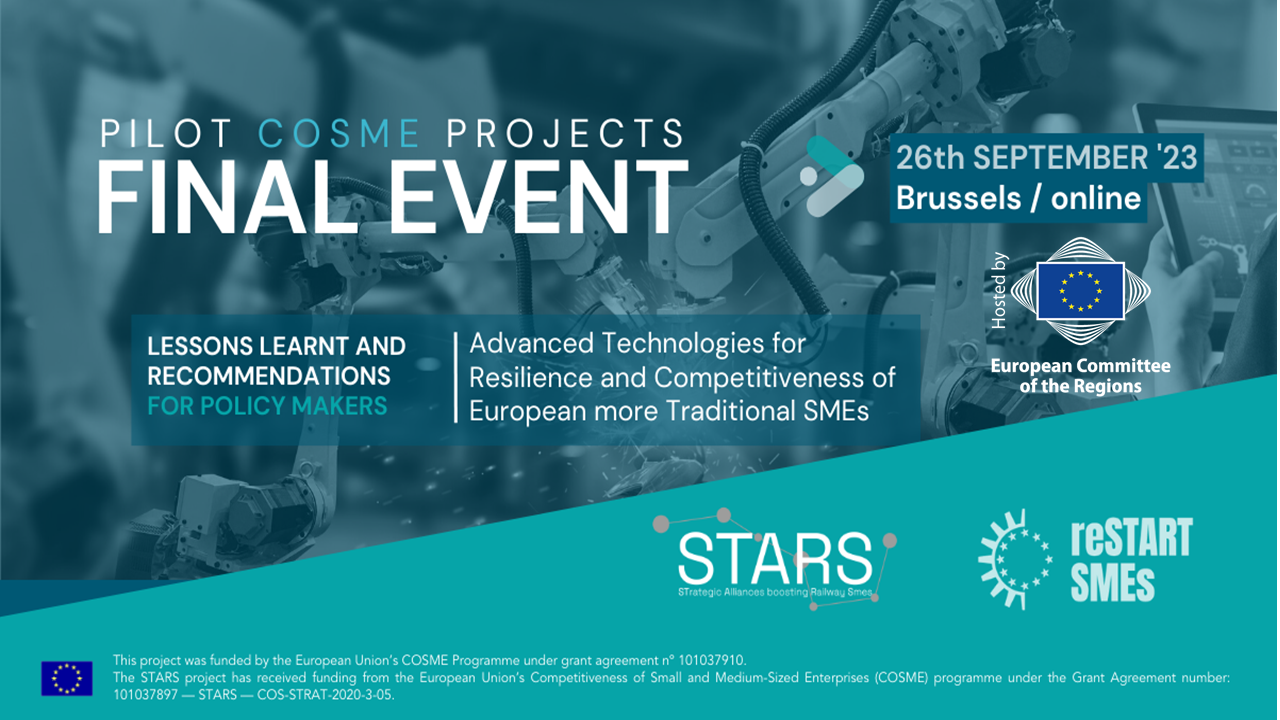 Ansprechpartnerin
Partners and Sponsors
Buchungen
Buchungen sind für diese Veranstaltung nicht mehr möglich.